Brickyard: Grow, Cook, Eat is Everton in the Community and Feeding Liverpool's new community garden, which brings sustainable, creative urban-growing into the heart of L4.
Feeding Liverpool and Everton in the Community partnered with Conal Studio to bring the Brickyard: Grow, Cook, Eat show garden from its first showing at the RHS Tatton Park flower show, to Liverpool, relocating it to Everton in the Community's purpose-built mental health and wellbeing hub, The People's Place – forming a lasting legacy for the city.
Brickyard at the RHS Tatton Park Flower Show
Brickyard showcases the best of inner city urban growing, with the design influenced by traditional brickyards that run alongside thousands of UK terraced streets. It responds to the limitations of awkward inner-city growing spaces and looks at how we can adapt them for modern living. Factors such as tenancy agreements, environmental concerns, tradition, and cost have a massive impact on how people utilise these spaces. The aim is to inspire new ways of thinking, by developing solutions for people that they may not have thought of.
Brickyard show garden, designed by Conal McGuire from Conal Studio, was awarded the highest honour at the RHS Flower Show: a Gold Medal alongside the award for Best Terrace and Slim Space Garden and The People's Choice award.
During the show Brickyard hosted live demonstrations from Andrea Ku of B 4 Biodiversity. Andrea demonstrated how the gardens unique grow-frames enable people to cultivate food organically, in awkward outdoor spaces at home, or in shared gardens. The growing frames demonstrated the benefits of companion planting and will house bespoke habitats for rare species of bumblebee and other wildlife.
"Seeing this garden through from concept to reality has been a wonderful opportunity. There have been challenges along the way but knowing that Brickyard will go on to have a meaningful legacy back in Liverpool after Tatton makes it all worthwhile. I would like to thank Feeding Liverpool and Everton in the Community for their involvement, these two charities are close to my heart and represent some of our cities finest and kindest. I hope that Brickyard encourages people to boost urban biodiversity and inspires them to develop their own awkward outdoor spaces." Conal McGuire at www.conalstudio.com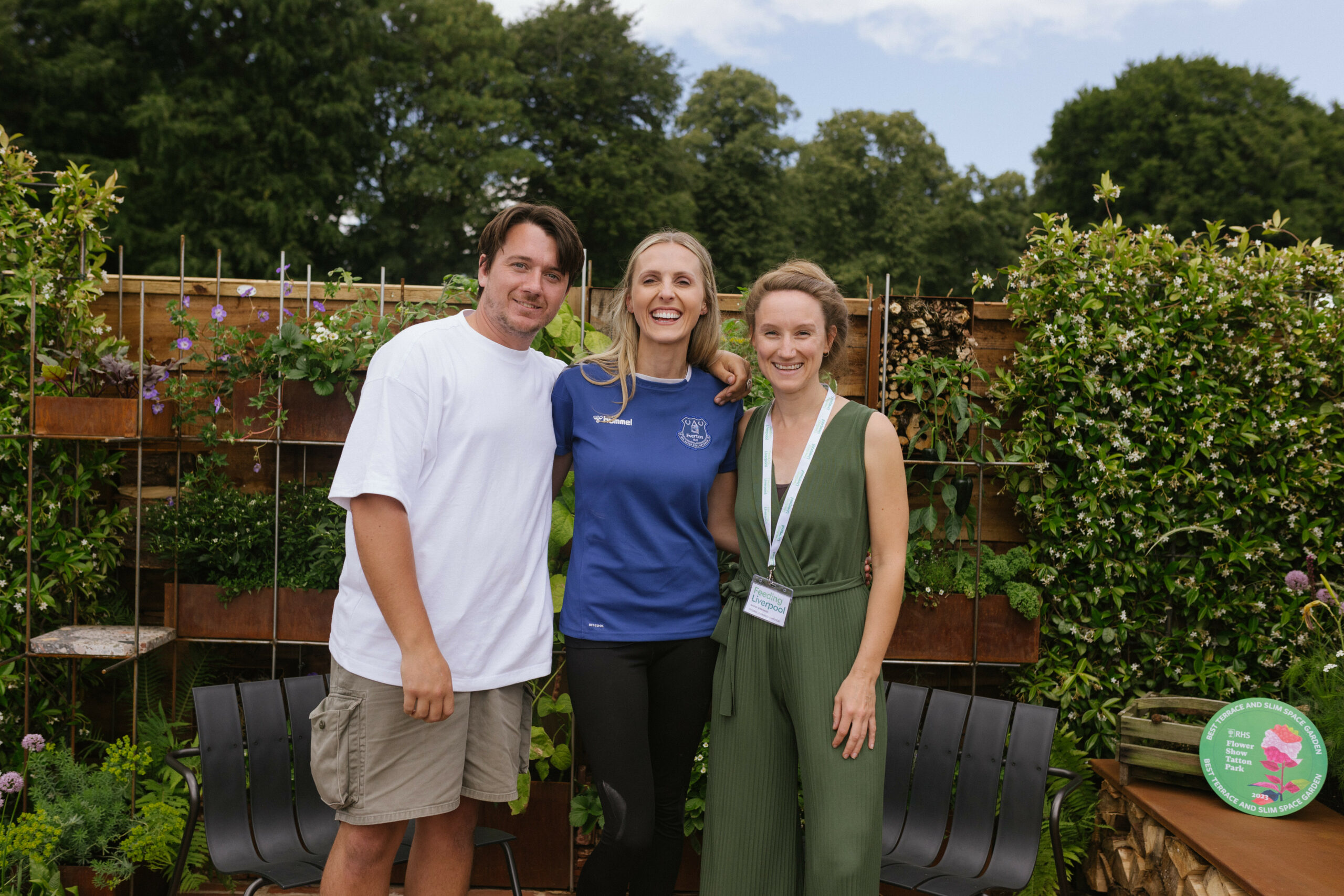 Brickyard at home in L4
In August, 2023, Brickyard was brought back to Everton in the Community's purpose-built mental health hub, The People's Place.
The People's Place is the first purpose-built mental health and wellbeing hub attached to a Premier League football club and houses the charity's 15 mental health projects and provides wellbeing activities alongside educational and employment support. The garden will become the latest addition to the Goodison Campus, offering a safe space for staff and service users to host one-on-one therapy sessions, community events, group counselling and community outreach work as well as giving residents access to homegrown food and equipping them with the skills to grow their own produce.
Jones, Senior Programme Manager at www.evertoninthecommunity.org commented:
"Everton in the Community is thrilled to partner with Feeding Liverpool and Conal Studio to bring 'Brickyard: Grow, Cook, Eat' to The People's Place. As a charity, we pride ourselves on acting upon the needs of the local community and improving access to homegrown produce is one that must be addressed to help tackle issues of food insecurity.

"This is a great opportunity for us, which will allow the community and our participants to access a green growing space and take up gardening to help aid their wellbeing. The garden will also help to support the delivery of our programmes and enhance what we can offer at The People's Place, so we are honoured for it to be placed with us and continue Brickyard's legacy."
The garden is accessible to Feeding Liverpool's network as they bring organisations and residents together to deliver engagement activities around Good Food For All, with both Feeding Liverpool and Everton in the Community supporting to Liverpool's Good Food Plan.
In Liverpool more than 1 in 3 adults are food insecure – with food being a source of worry, and households reducing the quality and quantity of food they are eating, skipping meals and for some going hungry. Many residents also do not have access to their own green growing spaces. Liverpool's Good Food Plan seeks to develop 'food citizenship' through enabling residents to have the power and tools to shape their own food environments. Urban food growing is a foundation stone of this vision. The partnership developed through 'Brickyard: Grow, Cook, Eat' will have numerous benefits for residents including encouraging healthy eating, a sense of wellbeing and improving food security.
Our Director Dr Naomi Maynard shared:
"Feeding Liverpool is delighted to partner with Conal Studio and Everton in the Community to bring 'Brickyard: Grow, Cook, Eat' to Liverpool. Good food is the foundation of strong communities in our city, bringing people from all different walks of life together. Our hope is that Brickyard will inspire urban growing in unusual spaces across Liverpool alongside being a focal point for good food in Everton."

Jonathan Jones, Conal McGuire, Dr Ruth Hussey, Dr Naomi Maynard, Ian Snodin, Professor Matthew Ashton – Photo credit: Everton in the Community