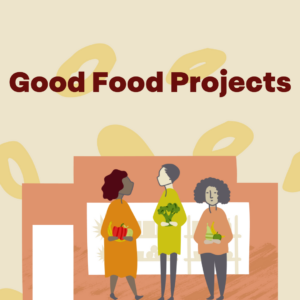 Announced at the Good Food Plan Pledge Event in November, Feeding Britain awarded Feeding Liverpool £30,000 from their Community Food Fund to develop new community food spaces with St Andrew's Community Network, Micah Liverpool, Liverpool Six Community Association, and New Beginnings Improving Lives.
This funding will go towards Good Food Projects setting up food pantries, relaunching a community market, developing mobile school-based food clubs, and developing a mobile unit to extend the reach of a community food store.
We caught up with the four organisations as they prepare to launch their Good Food Projects.
St Andrews Community Network
St Andrews Community Network lead the Your Local Pantry network in North Liverpool. These are membership-based food pantries where members pay £3.50 for 10 items. They are intending to use this funding to open three new pantries in partnership with local community organisations in the coming months. St Andrews Community Network will be working to develop these pantries with KKZ Coaching in Walton, Marybone Youth and Community Centre in Vauxhall, and Bethel Church in Tuebrook.
Simon Huthwaite, Operations Manager at St Andrew's Community Network said:
"We are excited about these new opportunities to support excellent organisations and their local communities. Our partnership with Feeding Liverpool is something we are really excited about and my conversations with other pantries nationwide are highlighting the need for more of this kind of partnership working."
St Andrew's Community Network were awarded £15,900.
Micah Liverpool
Micah Liverpool run a large independent foodbank serving the local community and asylum seekers and refugees. Their Good Food Project is a relaunch of their membership-based community market, closed since March 2020, with fresh fruit and vegetables included for the first time, using local community growing organisations to do so. Micah Liverpool is looking to relaunch in February of this year.
Paul O'Brien, Micah Liverpool's Chief Executive said:
"The funding has allowed Micah to extend its reach in the community and to help people in and around the area who have been suffering in poverty. The funding will be especially useful to help those that have fallen below the poverty line during the pandemic."
Micah Liverpool were awarded £750.
Liverpool Six Community Association
Liverpool Six Community Association run an established food union serving the community of L6, Everton. They will develop three to four school-based food clubs as a mobile extension of their existing food union which provides ambient, chilled, fresh and frozen food.
Liverpool Six Community Association's Head of Operations, Shirley Marshall, explained:
"We would love to work with families to empower them and help them retain their dignity and take away stigma associated with food banks."
Liverpool Six Community Association were awarded £5250.
New Beginnings Improving Lives (NBIL)
NBIL run a membership-based community food store in Tuebrook which opened in June 2021. NBIL are using the money awarded to develop a mobile unit to extend the reach of their community food store. This will be done by using a repurposed ice cream van to be able to take their community food store to food deserts in the city.
New Beginnings Improving Lives Director and Founder Michelle Roach said:
"Access to low-cost food is a huge barrier to those who are both vulnerable and have no recourse to public funds and with our mobile pantry we want the community accessing low-cost affordable fresh produce which will result in fewer foodbank referrals in the long term. We want to thank the team at Feeding Liverpool for allowing us to make our plan a reality and we look forward to watching this initiative grow from strength to strength."
New Beginnings Improving Lives were awarded £8400.
If you have an idea for a Good Food Project, email [email protected]
To stay up to date with these Good Food Projects, visit our website here.