Come and visit the Feeding Liverpool team this July as we head to RHS Flower Show Tatton Park
This year's RHS Flower Show Tatton Park from 19th – 23rd July will feature show-garden 'Brickyard': Grow, Cook, Eat' a sustainable, creative urban-growing space that strengthens biodiversity and connects city residents with the joy of growing good food.
The show garden designed by Conal McGuire is the first public project from Conal Studio and is a collaboration with charity partners Feeding Liverpool, the city's food alliance passionate about ensuring everyone can eat good food, and Everton in the Community, the charitable arm of Everton Football Club that tackles social issues across the city including employability, mental health, education and poverty.
After the show, the garden will be relocated to Everton in the Community's purpose-built mental health hub, The People's Place, forming a lasting legacy for the city.
"Feeding Liverpool is delighted to be supporting Conal Studio and Everton in the Community with the development and post-show relocation of Brickyard. The vision and values of Brickyard bring to life Liverpool's Good Food Plan, enabling food citizenship through making urban food growing accessible for all. Our team are looking forward to welcoming visitors to the garden to showcase the intricate garden structures that provide new ways to bring food growing into inner city spaces" – Dr Naomi Maynard, Feeding Liverpool Director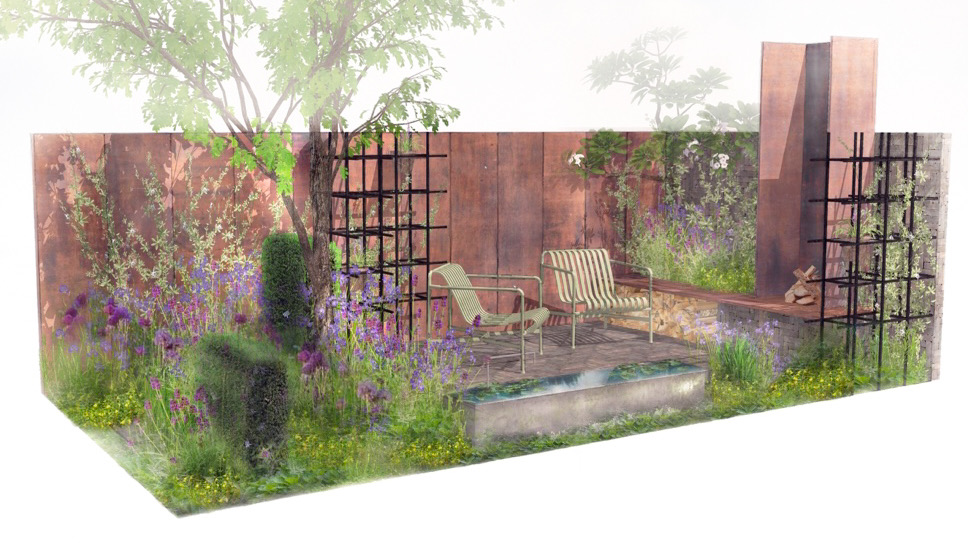 Brickyard's design is influenced by the traditional brickyards that run alongside thousands of UK terraced streets. It responds to the limitations of awkward inner city growing spaces and looks at how we can adapt them for modern living. Factors such as tenancy agreements, environmental concerns, tradition, and cost have a massive impact on how people utilise these spaces. Steel and reclaimed brick evoke the materials found in traditional brick-yards, here reimagined in a contemporary design. The 'Granby Rock' Terrazzo is made from the waste material of demolished Victorian terrace houses from inner-city Liverpool. It is woven through the garden, physically integrating and repurposing original material from the inspiration behind Brickyard.
During the show Brickyard will host live demonstrations from Andrea Ku of B 4 Biodiversity. Andrea will be demonstrating how the gardens unique grow-frames enable people to cultivate food organically, in awkward outdoor spaces at home, or in shared gardens. These frames will demonstrate the benefits of companion planting and will house bespoke habitats for rare species of bumblebee and other wildlife.
Feeding Liverpool, Everton in the Community and B 4 Biodiversity are not the only Liverpool-based charities heading to the RHS Tatton Park Flower Show this year. Our friends at Faiths4Change and Myerscough College will be at the show as part of the Northern Star Show Garden, and The Gateway Collective and Taking Root will also be bringing their garden back to Bootle after the show.
Feeding Liverpool's team will be at the RHS Flower Show Tatton Park on Thursday 20th July and Saturday 22nd July. Do come say hello!