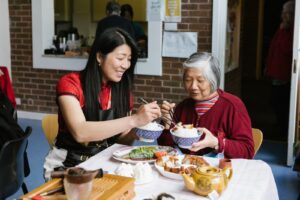 Since 2021 Feeding Liverpool has led Liverpool's Good Food Plan and listening to people across Liverpool as they have answered this question: "What does Good Food mean to you?"
For many, it means eating our cultural food. Feeding Liverpool have also heard how the traditions surrounding cultural food are important to our wellbeing through our sense of shared identity, community, and heritage.
This year, working with local photographer Emma Case and community groups across Liverpool, Feeding Liverpool have begun building a collection of food stories through photographs and interviews.
Naomi Maynard, Director of Feeding Liverpool says:
"At Feeding Liverpool we believe that local people should have the power and resources to shape their local food environments and the food system as a whole. Over the last two years we have heard from residents how good food can make us feel empowered, dignified, connected, joyful, and nostalgic, and that it is important that everyone in our city can enjoy good food. Good Food; Our Food brings to life good food stories from communities across Liverpool in a powerful and provocative way, whilst inviting each of us to join the conversation to explore what good food means to you."
Photographer and Feeding Liverpool's Creative Engagement Officer Emma Case says:
"It's been an absolutely incredible time getting to know all the wonderful people and families who have been involved in this project. I'm so grateful for them all. Their stories are rich and powerful, and I love that they are being shared. Partnering with Feeding Liverpool has meant this project has been for a greater cause and as a photographer, you can't get any better than your work having this kind of impact."
Dagmara Wojciechowicz, Manager of Merseyside Polonia and partner on Good Food; Our Food, says:
"We are incredibly honoured to partner with Feeding Liverpool and Emma Case on this event. I feel that our organisations share a passion for addressing issues that are affecting our local communities. Having access to culturally appropriate food is a necessity shared between all community members, universal to their country of origin. We are pleased that together we can support and advocate for wider community groups who found home here in Liverpool and Merseyside. We are such a welcoming city and this event is all about Scouse hospitality and all of our neighbours who chose this city to call home."
The Good Food; Our Food travelling photos and story exhibition will be launched at The Black-E on Saturday 20th May: find out more about the launch Good Food; Our Food Exhibition Launch
After the launch, the exhibition will travel around local communities groups.
Join our mailing list to find out where you can view the traveling  exhibition.
If you would like the Good Food; Our Food exhibition to come to your community contact Emma on [email protected]