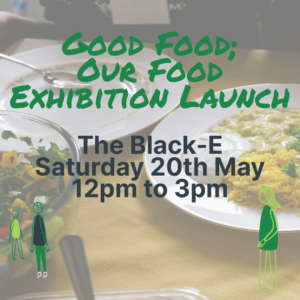 Since 2021 we've been listening to people across Liverpool as they have answered this question: "What does Good Food mean to you?"
For many, it means eating our cultural food.
We've also heard how the traditions surrounding cultural food are important to our wellbeing through our sense of shared identity, community, and heritage.
This year, working with local photographer Emma Case and community groups across Liverpool, through photographs and interviews, we've began building a collection of food stories.
Join us at The Black-E, Saturday 20th May from 12pm to 3pm, for Good Food; Our Food, the launch of a travelling exhibition of photographs and stories celebrating the relationship between food, culture, identity, and how important this is for our wellbeing.
What to expect:
Drop-in anytime
Visit the exhibition
Hear food stories
Meet your neighbours
Eat delicious traditional food showcased by community groups
Watch a Ukrainian MasterChef demonstration
Take part in arts and crafts for the family
Find out what's next for Good Food; Our Food and how you and your community can participate
We are grateful for the support of our project funders Torus Foundation and National Lottery Community Fund, and our project partners Merseyside Polonia for making Good Food; Our Food possible.