Liverpool's Good Food Plan partnership has been awarded a prestigious Sustainable Food Places award.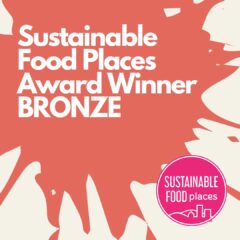 The Good Food Plan, which has a driving vision of "Good Food for All", was launched in October 2021 and is led by Feeding Liverpool and Liverpool City Council, with support from partners across the public, private and voluntary sector.
The partnership are delighted to have been awarded a Sustainable Food Places Bronze award. This Sustainable Food Places Award is a national, evidence-based recognition and celebration of places taking a joined-up, holistic approach to sustainable and healthy food. Awardees have demonstrated activity and impact across their food system by the food partnership and their stakeholders to create a local 'Good Food Movement'.
The Bronze Award recognizes the Good Food Plan partnerships work to promote healthy, sustainable and local food, and to take on some of today's greatest social challenges, from food poverty and diet-related ill-health, to tackling the climate emergency and the loss of independent food retailers. The awards panel highlighted Liverpool's exemplary work in dealing with food poverty and diet-related ill-health, and its commitment to increasing access to affordable healthy food.
They also praised the city's progress towards building a good food movement, involving diverse communities and people with experience of poverty.
Liverpool City Council Leader Cllr Liam Robinson said:
To receive this award is a wonderful achievement for Liverpool and highlights the progress being made towards our commitment to ensuring that Liverpool's residents have a right to food. Many challenges remain ahead but we will continue to build on this to ensure everyone in our city has access to healthy, nutritious, sustainable food.
Professor Matthew Ashton, Liverpool's Director of Public Health, said:
We are really pleased to receive this prestigious award, showcasing the collaboration between Feeding Liverpool, Liverpool City Council and partners to promote healthy, sustainable and local food. Each of us has a role to play to build a city where everyone can eat good food and this award demonstrates the progress the partnership has made towards achieving the Good Food Plan's goals.
Dr Naomi Maynard, Good Food Programme Director at Feeding Liverpool, said:
I am delighted that the hard work of hundreds of organisations and communities across Liverpool towards Good Food for All has been recognised on the national stage. Whilst the challenges we face are significant, the progress made over the last few years has highlighted what can be achieved when we take a joined up, holistic approach to sustainable and healthy food.
Leon Ballin, Sustainable Food Places Programme Manager, said:
Liverpool has shown just what can be achieved when creative and committed people work together to make healthy and sustainable food a defining characteristic of where they live. While there is still much to do and many challenges to overcome, Liverpool's work through the Good Food Plan and food partnership Feeding Liverpool has helped to set a benchmark for other members of the UK Sustainable Food Places Network to follow. We look forward to working with them over the months and years ahead to continue to transform Liverpool's food culture and food system for the better.