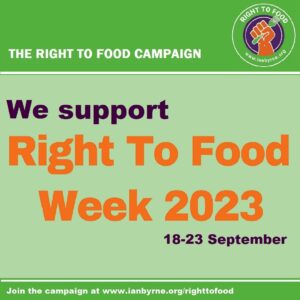 Join the Hunger March on Saturday 23rd September, taking place at 12 noon at St George's Hall steps!
In a country as wealthy as the UK, hunger is a political choice. Whilst many cities have copied Liverpool's example and voted to become Right to Food Cities, there is a lack of national leadership to address food insecurity. Feeding Liverpool are joining the Right to Food Campaign in an emulation of the unemployed workers movements in the 1920s-1940s which mobilised unemployed workers, trade unions and civil society to call for national action to end hunger.
Feeding Liverpool want to support Community Food Spaces to get involved in the Right to Food Week of Action and join the march.
 Ideas to get people from your food space engaged could be:
Holding a banner making session to create materials for the march on the 23rd

Deciding on a meet up point to join the St George's Hall rally together with your members and banner

Using your social media to promote the march and Right to Food graphics use #RightToFood #RTFWeek2023 #HungerMarchLiverpool

Creating a video from your community food space explaining why the Right to Food is important for members

Holding a Right to Food stall at your community food space to talk to others

Contacting your local schools, community groups and workplaces to make connections and get them involved
If you are interested in getting involved in the week of action, mobilising for the Liverpool Hunger March or want to find out more, check out our website or email [email protected]
Download the Right to Food Week flyer here.