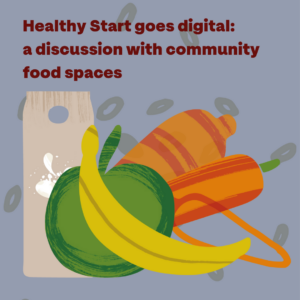 21st March 2pm to 3pm
The Healthy Start Scheme is a government funded program that aims to increase the health of women on low incomes and their young children to give them the best start in life.
It is available to women who are 10+ weeks pregnant, or have a child up to the age of 4, and who are on income-related benefits. They receive at least £4.25 each week that can be spent on fruit and vegetables, pulses, milk, baby formula, and Healthy Start vitamins – enabling women who have little disposal income to be able to prioritise healthy food and increase their vitamin and mineral intake.
Feeding Liverpool would like to bring together lead volunteers and staff members who run Liverpool-based food clubs, pantries and food unions to provide an update about the digitisation of the Healthy Start Scheme and to collectively identify any challenges and solutions to accepting Healthy Start Scheme pre-payment cards within our community food spaces.
If you'd like to do some pre-reading about this transition, do read Money Saving Expert's review of the new scheme. Iceland have also launched their 'Could you get this milk for free?' campaign to promote Healthy Start.
If you are an organisation who is already accepting payments via the Healthy Start Scheme pre-payment cards do get in touch with Naomi on [email protected] as we'd love to have a conversation prior to the meeting.
Register through Eventbrite here