Award-winning garden 'Brickyard: Grow, Cook, Eat' arrived at its new home at Everton in the Community's (EITC) The People's Place.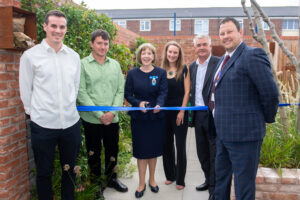 Jonathan Jones, Conal McGuire, Dr Ruth Hussey, Dr Naomi Maynard, Ian Snodin, Professor Matthew Ashton – Photo credit: Everton in the Community 
Fresh from its appearance at the Tatton Park RHS Flower Show, the sustainable outdoor space was officially unveiled by Evertonian and designer Conal McGuire from Conal Studio, Jonathan Jones at EitC and Dr Naomi Maynard from Feeding Liverpool as part of an event attended by a variety of stakeholders, including Everton Ambassador Ian Snodin, Director of Public Health at Liverpool City Council Professor Matthew Ashton and Merseyside's High Sherriff Dr Ruth Hussey, who cut the ribbon and declared the garden open for community use.  
Visitors were also treated to a cooking demonstration by Feeding Liverpool trustee Michelle O'Dwyer from Bay Tree Catering, showing how the homegrown produce can also be cooked and shared in the garden. 
Brickyard has been made possible thanks to Conal Studio, who gifted the garden to EitC. It will be used to support one-on-one therapy sessions, group counselling, community events and outreach work to aid positive mental health and wellbeing – hence its permanent residence in the charity's purpose-built mental health and wellbeing hub.  
The garden brings growing good food to the heart of L4 and will be accessible to organisations in Feeding Liverpool's network to use as part of our work on Liverpool's Good Food Plan.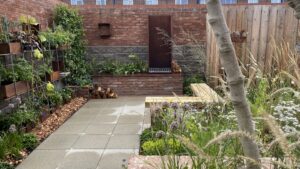 Photo credit: Conal Studio
Our Director Dr Naomi Maynard said:  
 "The garden looks fantastic; we are so excited to share it with Feeding Liverpool's network in collaboration with EitC. This garden brings urban community food growing into the heart of L4, taking an important step towards everyone in Liverpool being able to grow, cook and eat good food in their local community."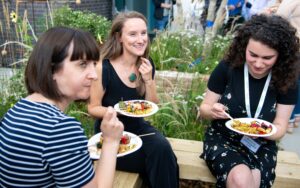 Liz Fisher, Dr Naomi Maynard, Elena Vacca – Photo credit: Everton in the Community 
Jonathan Jones, Senior Programme Manager at www.evertoninthecommunity.org commented:  
 "We're delighted and extremely grateful to host the Brickyard garden at The People's Place. It's such a welcome addition to our mental health and wellbeing hub and will serve many different purposes for our staff, participants and the local community. This sustainable outdoor space will bring a sense of calm and serenity to L4, help tackle issues of food insecurity and enable us to enhance our offering at EitC."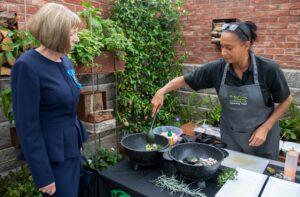 Dr Ruth Hussey, Michelle O'Dwyer – Photo credit: Everton in the Community 
Conal McGuire at www.conalstudio.com said:
"It's so rewarding to see the concept of the garden come to life. The last month has been a whirlwind, after winning a Royal Horticultural Society gold medal and Best Terrace and Slim Space Garden at Tatton and then relocating it to its new home at The People's Place. It's all worthwhile seeing first-hand how the garden will help to support and sustain the important work that takes place here for many years to come."