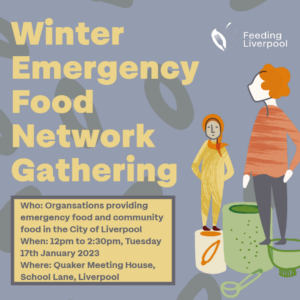 We are inviting organisations in Liverpool providing emergency food support and community food support to join us at our next quarterly emergency food providers network gathering. The session will bring together organisations to listen, learn, share and make connections, as we work towards creating a city where everyone can eat good food.
At this session we will be joined by Lydia Hayes, Professor of Labour Rights, University of Liverpool and member of LATAN (Liverpool Access to Advice Network). Lydia will give a practical briefing on employment rights and in-work poverty, and how groups can best support those they serve.
You will also hear from three emergency food providers and learn about their organisations, their success and any challenges they are facing. There will be an opportunity to share your experiences, and ask questions too.
Increasingly, people using emergency food provision are in employment. Many working people have low levels of awareness of their rights at work. This, together with problems associated with insecure hours or irregular earnings and fear of being bullied by managers, means that people often don't know how to realise the benefits of employment rights to which they are entitled.
Harsher welfare rules are expected early in 2023 that will require benefit claimants working up to 15 hours a week to increase their earnings. The cost of living crisis makes it essential that individual rights at work are realised.
The briefing will help you to open up conversations about in-work poverty, minimum employment standards, and find out how people can access help and support.
We would encourage each organisation providing emergency food support or community food support to send a representative to this session.
Lunch will be provided. Please email [email protected] with any dietary requirements.
Who: Organisations providing emergency food and community food in the City of Liverpool
When: 12pm to 2:30pm, Tuesday 17th January 2023
Where: Quaker Meeting House, 22 School Lane, Liverpool, L1 3BT
If you have any questions, please contact Jennifer Graham on [email protected].