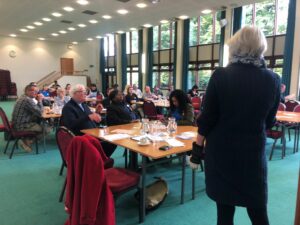 In April 2022 we held our event Supporting Refugees and Asylum Seekers in your Community at Liverpool Archdiocese office. We invited community food spaces and other local organisations to come together and learn more about the support in place across the city for people seeking asylum and refugees, and to discuss ways to develop community food provision for this group.
The event was hosted by Annette James from Micah Liverpool and Feeding Liverpool and Ewan Roberts from Asylum Link. We were also joined by Nicher Awan from Micah Liverpool.
Annette opened the event with a short presentation about Feeding Liverpool and our work as lead partners of Liverpool's Good Food Plan. Ewan followed with a presentation about Asylum Link's work with people seeking asylum and refugees and how they have used Food as Welcome as a charity. The first half of the event ended with a short talk from Nicher Awan who described her experiences around food provision as an asylum seeker and refugee.
You can watch the first half of our event below or on our YouTube channel.
Annette's Introduction to the event 00:00
Ewan's Food as Welcome presentation 4:15
Nicher, an Expert by Experience 31:36
You can view Ewan's slideshow here.
Lunch was served by Betty Vandy from Bettylicious Cooks; incredibly delicious jollof rice with a tasty aubergine stew and salad, a great example of Good Food. During lunch, attendees were encouraged to move around the room and network with one another.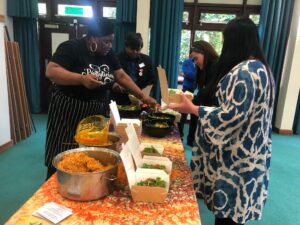 The second half of our time together began with a presentation by Annette about the food provision offered to asylum seekers and refugees by Micah Liverpool and Christ Church Toxteth Park Pantry. Annette also spoke about the Healthy Start Scheme and how it may be able to be used to support refugees.
This led on to a panel Q&A with Nicher, Ewan and Annette answering questions from attendees.
You can watch the second half of our event below or on our YouTube channel.
Annette's presentation 00:00
Panel Q&A 10:44
You can view Annette's slideshow here.
We came together at the end for a lovely group photo in support of the Together with Refugees campaign.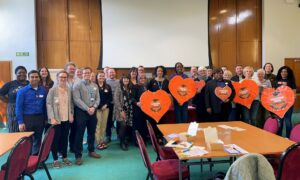 Here are some links to additional resources that we think may be useful:
The feedback we received from this event was positive and showed that there is a need for groups across the city to be better connected. We see this event as the beginning of a conversation and are working towards how we can better facilitate these connections.