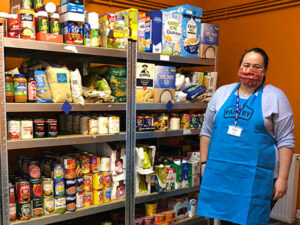 A network of community food pantries in south Liverpool, led by South Liverpool Foodbank, continues to grow, with 'The Dingle Pantry', part of the Your Local Pantry network in South Liverpool, opening this week
South Liverpool Foodbank began supporting the development of pantries through the Your Local Pantry model earlier this year. Their work has been kindly supported by St Andrews Community Network,  Torus Housing and Together Liverpool.
Chris Shelley, Assistant Manager at South Liverpool Foodbank, told Feeding Liverpool about the growing network:
We have already helped set up and oversee running of  the pantries at St Aidan's in Speke and Christ Church in Toxteth Park.

However this week, on Thursday August 5th, we are excited to be opening "The Dingle Pantry" at St Gabriel's Church.

South Liverpool Foodbank are then looking to support the opening of up two further pantries, the first  at St Mary's Grassendale and a second at the Bridge Chapel in Garston.

By the end of October we should have 5 pantries up and running in the south of the city and we have already been approached by two other community groups who tell us they also wish to set up a pantries too.

This is exciting, we really feel that this is making a difference to the many families who have become members of one or other our local pantries.
This growing network, alongside the many other community food spaces in the city, means we now have over 30 pantries, community markets and  community shops in Liverpool city.
To find out more about the South Liverpool Foodbank Pantry project contact Chris Shelley via https://southliverpool.foodbank.org.uk/contact-us/