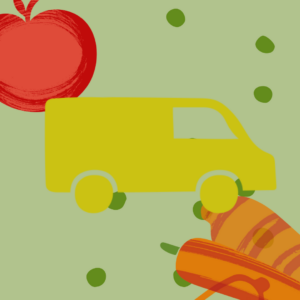 Calling all Fab Feb providers this half-term!
Our revamped Queen of Greens community fruit and vegetable bus is looking for a new logo to be displayed on the bus as it travels across Liverpool.
We are inviting all children and young people who are attending a Fab Feb activity this half-term to take part in this competition. There will be prizes for the top three entries and the winner's picture will be the logo.
We are looking for a colourful picture, which includes the child's favourite fruit or vegetable, to bring the Queen of Green bus to life!
Pictures should be on white A4 paper using brightly coloured paints or felt tip pens. The first name and age of the child or young person should be included on the back of the picture.
All entries should be submitted by the Fab Feb provider by 4th March 2022 to Naomi Maynard at Feeding Liverpool, Liverpool Archdiocese Office, Croxteth Drive, L17 1AA or scanned and uploaded to: www.feedingliverpool.org/media-submission-form
Guest judges Mayor Joanne Anderson, chef Dave Critchley and Nonconform Director Andrew Weatherstone will select three winning entries from across the city, with prizes being given to the Fab Feb provider to distribute. As a thank you, a fruit box will be sent to every Fab Feb provider who submits entries for the competition.
The winning entries, alongside the first name and age of the child, may be used in a variety of formats by partner organisations. Fab Feb providers should ensure entrants are happy for this picture to be submitted to this competition. The decision of the selection panel is final. It will be the Feb Feb provider's responsibility to contact the winning entrant on behalf of Feeding Liverpool. Modification of the winning picture may be needed to ensure usability. For any questions about this competition please contact Naomi Maynard on [email protected].