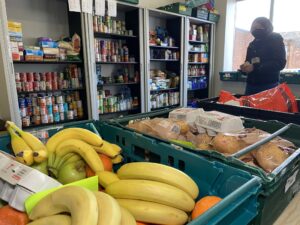 The Government has announced a new fund for councils to support low-income families access food and other essentials during the winter. Councils should adopt a cash-first approach when supporting households this winter.
Read this blog by Sustain's Cecily Spelling who explains why this fails to address the scale of food poverty this winter.
The Department for Work and Pensions has announced a new £500 million Household Support fund to support low-income families across the UK. Distributed by councils, this fund aims to support families access the food and other essentials they need during the winter as we continue to recover from the Covid-19 pandemic.
This new fund, similar in format to previous Covid-19 grant schemes, comes days before the Government's cut Universal Credit by £20 a week, despite strong opposition from its own party and civil society. It also comes amidst continued calls from the End Child Food Poverty campaign, spearheaded by Marcus Rashford, for changes to longer-term solutions to child poverty including increasing the eligibility threshold for both the free school meals and the Healthy Start voucher scheme and long-term funding for holiday food and activities programmes.
Cecily Spelling, Food Poverty Campaign Coordinator, Sustain says:
"By launching the Household Support Fund, the Government is giving crumbs from the table with one hand, whilst taking away the rest of the store cupboard with the other. Instead of emergency funds, it should focus on the longer-term changes that will offer the dignified support people deserve. This should include dropping plans to cut Universal Credit, extending the eligibility for free school meals and Healthy Start, and long-term funding for the holiday activities and food programmes. That would be a start, not more measures that paint over the cracks of poverty."
What does the fund offer?
This new fund will provide £500 million across all four UK nations. The Scottish Government will receive £41 million, the Welsh Government will receive £25 million, and the Northern Ireland Executive will receive £14million. Devolved nations will be able to choose how to best allocate this funding, but funding will be distributed by local authorities in England.
Finer details are yet to be announced but we believe that councils will be able to decide how this money is distributed. Funding could be delivered through cash-first approaches which offer a more dignified access to support for people that need it. It could also be used to plug the holes in the Holiday Activities and Food Programme in England, which is currently only funded by government to provide support for one week during the two-week Christmas break and excludes provision for the upcoming October or February half terms.
What do we need instead?
The Household Support Fund is another sticking plaster to a much deeper problem, offered as an olive branch in the face of revolt from civil society and Parliament. Instead of more emergency funds that only reach a small minority of people, we need longer-term solutions that offer dignified support and choice for people and can build systemic change. We call on the Government to:
Cancel the planned £20 cut to Universal Credit to ensure our social security system is adequate for those that need it. With 40% of people on Universal Credit already in work, it's clear government needs to invest in both social security and wages
Extend eligibility for free school meals for all children in households with income below £20,000 (at present the threshold for England and Wales is £7,400), and to ensure this includes children that are undocumented or living in households under the No Recourse to Public Funds (NRPF) immigration condition.
Extend eligibility for Healthy Start vouchers for pregnant women and families with small children to include all children under 4 years old (currently cuts off at age 3), and all households with income below £20,000 before benefits, including undocumented children and those under NRPF immigration conditions as above.
Provide long term funding for school Holiday Activities and Food Programmes, with increased eligibility as for free school meals.
What can you do to ensure the Fund is well-used?
If you're a local authority, you can ensure you provide the most dignified form or support over the winter by offering cash-first approaches where possible. Watch this webinar for examples of how local authorities have used cash-first approaches in their areas or find other ways to support recovery in this short guide.
If you're a food poverty alliance or food partnership, get in touch with your local authority and ask how they plan to distribute the funds. Can you help them deliver this support or can you offer advice about cash-first approaches? Please do share this webinar or short guide with them.
If you're in Liverpool and looking for support, please visit the Come2Gether website