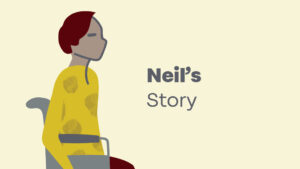 This year I turn 59.  I don't have a home or an income so I need to rely on food each week from two foodbanks. Before the pandemic I went around the soup kitchens, I used to volunteer at them too and work the door, but now a lot of them are closed.
I'm disabled but my disability, we just don't' get assistance for our type. That's a very long story (sighs), I haven't claimed since 2007.
I don't have anywhere to cook, so I eat pre-prepared or dried foods. That's what I get here at the foodbank. The variety of food I get is good but without the second food bank, the quantity wouldn't be enough for the week.