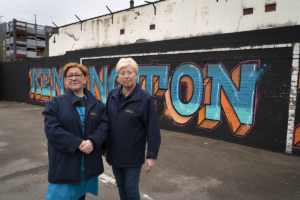 Guardian documentary Made in Liverpool: This Land is our land, the fifth episode of the Made in Britain series, centres on Kensington Fields Community Association telling the story of their community centre, food pantry, frustrations at the changes to their community, and the launch of Kensington Fields Community Land Trust.
The Guardian have worked in partnership with Feeding Liverpool, Church Action on Poverty and local filmmakers, and have encouraged the local community to shape the story they wanted to tell.
Jennifer Graham, our Good Food Programme Network Coordinator, spent the past few months filming the team and pantry users at Kensington Fields Community Association. Jennifer says:
"It has been a privilege to film the warm and welcoming community of Kenny Fields and to help shape their story with integrity. As well as learning new skills during this process, I've been able to directly support a local community food space that has been a lifeline for many during the pandemic and cost-of-living crisis."
Feeding Liverpool are lead partners of Liverpool's Good Food Plan, a city-wide strategy born from the belief that together, we can create a city where everyone can eat Good Food. Goal 3 of the Good Food Plan, Enabling Food Citizenship states: "We want to enable people to have the power, voice, resources and motivation to shape their local food environments and the food system as a whole."
Dr Naomi Maynard, Good Food Programme Director says:
"We have been delighted to be a part of this collaboration which has, right from the start, been about enabling local people to share the story of what matters to their community. My hope is that through watching this documentary, brought to life through the passion and commitment of the residents of Kensington Fields, others will be inspired to take the first steps towards shaping their local food environment, and telling their own community's story."
You can watch Made in Liverpool: This Land is our Land on The Guardian website here or YouTube here.
You can make donations to Kensington Fields Community Association through their Just Giving page here.