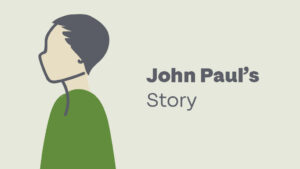 I left care when I was 17, I'm 24 now. I've been living on my own or in hostels ever since in and out of work.
This last year's been hard, I started working in January for an agency and after two weeks they had to let me go because of my asthma, the only role they had available was all in COVID wards in the hospital, and because of my asthma they couldn't put me there, so they had to cancel the contract.
When I started working I was buying higher quality ingredients and everything, so I can actually cook my meals from scratch rather than getting them frozen. I can make my own pizzas and everything but then obviously that ended and it's kind of gone back to the usual frozen ready meals.
I think what's needed is to either make foods more cost effective or for an increase in Universal Credit, which I know that they have been doing since the start- April last year, but a permanent increase if you get me.