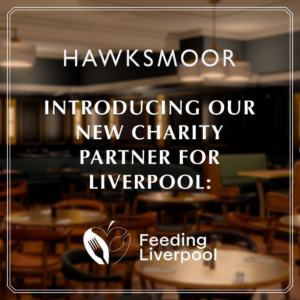 The award winning steakhouse and cocktail bar group, Hawksmoor has announced a new charitable partnership with Feeding Liverpool.
Hawksmoor's work with international, national and local charity partners runs alongside and underpins their ethical and sustainable business model. Hawksmoor is extremely proud to be a certified B Corp and part of their ethos is to support local and global communities in line with their goals to feed people well and to grow with integrity.
International partners include Action Against Hunger and the One Water Foundation to provide basic human needs and rights. Hawksmoor's national partners include Magic Breakfast, providing meals for children; Kelly's Cause offering mental health first aid training to the hospitality industry; and Hospitality Action giving vital assistance to people working in their sector.
Hawksmoor also works closely with a number of charitable initiatives to provide support to causes that transform lives in the cities in which their restaurants are located. In London they work with City Harvest and Chefs in Schools; in Manchester their partners include Eat Well Manchester and Wood Street Mission; and their charity partner in Edinburgh is Cyrenians.
Will Beckett, Co-Founder and CEO, Hawksmoor says:
We're really happy to be supporting Feeding Liverpool, not just because they think the same way we do about food poverty, communities and the shameful reality that so many people still rely on food banks in modern Britain, but because they are great at what they do and they represent the best of Liverpool, a community that looks after its own as well as anywhere in the world.
Hawksmoor has pledged a £10,000 initial contribution to Feeding Liverpool and will follow this initial donation with ongoing support with a portion of dessert and cocktail sales going to the charity, and additional fundraising through dedicated campaigns and special events.
Dr Naomi Maynard, Good Food Programme Director, Feeding Liverpool, says:
We are delighted to be named as Hawksmoor's charity partner in Liverpool, who share our passion for good food. We look forward to developing a mutual partnership as we listen and learn from the Hawksmoor team and welcome them into Feeding Liverpool's network. Hawksmoor's support has come at a vital time, as many in our city are facing a difficult winter. This partnership will enable Feeding Liverpool to continue to develop and support projects working to tackle food insecurity and improve access to good food in the city.
Hawksmoor Liverpool is situated in the iconic, Grade II-listed India Buildings, which sits just off Castle Street on the corner of Brunswick Street and Fenwick Street, and boasts a 150 cover restaurant, private dining space and a bar to be enjoyed by both diners or those simply looking for a spot to enjoy a drink.