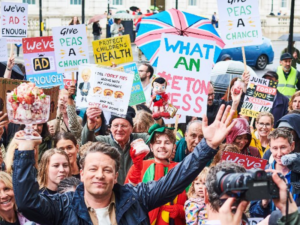 Beth Bradshaw is a project manager and registered associate nutritionist working at the public health charity Food Active. Beth is currently co-chair of the Good Food Plan Policy and Advocacy Community Group.
Over the last two weeks there has been lots of news about the Prime Minister's decision to delay important policies that are designed to reduce childhood obesity.
It was back in 2018 that the government first announced they were considering introducing measures to take junk food out of the spotlight, by restricting advertising of unhealthy food and drink, and limiting promotions on unhealthy products by price and location in store. They spent a few years talking to the food industry, campaigners, professionals and the public to see what they thought about the plans.
In 2020, in response to the Covid-19 pandemic, the Prime Minister launched the National Obesity Strategy which officially confirmed that new legislation would come into place. This included:
New laws to restrict advertising of unhealthy food and drink products before 9pm on TV, and similar restrictions online including social media (January 2023)
New laws to restrict multibuy promotions on unhealthy food and drink. This includes deals such as 'Buy One Get One Free' and 'Buy 3 for 2' (October 2022)
New laws to restrict unhealthy food and drink being placed at key locations in store. This includes the checkout, store entrances and end of aisles (October 2022)
Why do we need these laws?
These policies were proposed for a range of reasons:
The number of children living with obesity rose last year; new data shows that two in five children in England are now above a healthy weight when they leave primary school.[i] Children with obesity are five times more likely to become adults with obesity,[ii] increasing their risk of developing conditions including type 2 diabetes, cancer, heart and liver disease.
Children living in deprived areas are more than twice as likely to be living with obesity than their more affluent counterparts.
Reducing obesity is complicated but we know that marketing of unhealthy food and drinks can influence our behaviours.
Seeing just one minute of unhealthy food advertising can lead to children eating an additional 14.2 calories.[iii] These prompts, that can lead to eating just a little bit extra every day, can lead to excess weight in children – as it can take as little as 46 additional calories every day.[iv]
Multibuy promotions don't actually save us money; they cause us to spend up to 20% more on products we were not intending to buy and are often unhealthy. So not only are they bad for our pockets, they are bad for our health too.
#ChildHealthUTurn
But just a few weeks after the laws had become official UK law, the Prime Minister decided to delay these plans for at least 12 months.
According to reports, the move came amid concerns about the impact the policies could have on the ongoing cost of living crisis. It was also suggested that the government wanted to allow businesses more time to prepare for the new laws.
In response to the first excuse, the government's own impact assessment found that multibuy promos cause consumers to spend +20%, plus are often found on unhealthy food and drink so are bad for our pockets and our health. Secondly, both marketing and promotions legislation was first proposed in 2018. We believe the food industry has had ample time to prepare and adjust (small businesses are exempt anyway). Obesity levels are continuing to rise. The health inequality gap continues to grow. We believe these important measures simply cannot wait.
Who is sticking up for children's health?
The response to this announcement has been huge and far reaching. Last Friday Jamie Oliver arranged a peaceful #EtonMess protest, attended by members of the Bite Back 2030 youth board calling on the government to reconsider the move.
At Food Active we coordinated a letter to the Prime Minister on behalf of public health directors across the North of England to emphasise the need for these laws to reduce obesity and 'level up' the North-South divide when it comes to health inequalities[v].
Liverpool City Council's very own Director of Public Health Professor Matthew Ashton was one of the directors who supported the letter, and said:
"The National Obesity Strategy, published just under two years ago, held so much promise to help tackle the environmental drivers of obesity, and we welcomed this with open arms. This is why we are so very disappointed to see the sudden change in direction on important policies that we know will help reduce childhood obesity and support efforts to 'level up' the significant health inequalities found across the North and South of England.
Local areas are working really hard to address these issues but there is only so much we can do without support from National Government. Marketing and advertising of unhealthy food and drink across TV and online platforms are bombarding our children and we need the government's help to put an end to this. If the government are truly serious about reducing childhood obesity and levelling up inequalities in health, we ask that they don't turn their back on the national obesity strategy now."
Tesco's and Sainsbury's have also shown the government the food industry are ready for these changes; having both committed to implementing their own restrictions on multibuy deals on unhealthy food and drink in October 2022 despite the delay.
How can I get involved?
Want to help support efforts to call on Boris Johnson to reconsider his #ChildHealthUTurn? Here are some ways you can get involved:
RT our tweet here
RT Bite Back 2030's youth board's plea to Boris Johnson here
Write to your local MP via Sustain's e-action here
_________________________
Stay up to date with all the latest Food Active news by subscribing to our mailing list here and to get in touch, see below.
Tw: @food_active
Fb: @foodactiveheg
[ii] Simmonds M, Llewellyn A, Owen CG, Woolacott N. Predicting adult obesity from childhood obesity: a systematic review and meta-analysis. Obes Rev. 2016 Feb;17(2):95-107.
[iii] Russell SJ, Croker H, Viner RM. The effect of screen advertising on children's dietary intake: A systematic review and meta-analysis. Obes Rev. 2019 Apr;20(4):554-568. doi: 10.1111/obr.12812. Epub 2018 Dec 21
[iv] Plachta-Danielzik S, Landsberg B, Bosy-Westphal A, Johannsen M, Lange D, Muller M. Energy gain and energy gap in normalweight children: longitudinal data of the KOPS. Obesity (Silver Spring) 2008, 16(4).