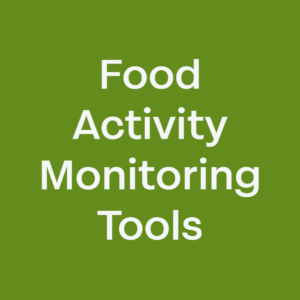 For many organisations 'monitoring' is a scary word. We have designed some simple tools which I hope can help take some of this stress away, enabling you to focus on what you do best. Knowing how many people you support, who they are and what your food activities means to those who attend can enable you to communicate clearly with funders about the difference your work is making
Dr Naomi Maynard
Food activity monitoring tools
The food activity monitoring tools are designed to be completed each week by a volunteer or a member of staff immediately after your session. They provide space for you to capture the number of people you have supported and their age groups as well as note any feedback or reflections you or your team have after the session.
We have provided them in two formats: a set of one-page paper versions for each type of food activity, and an excel spreadsheet which encapsulates all four types of food activity.  Use the method that bests suits your organisation.
The following spreadsheet contains a separate tab to record for each type of food activity. Please download and save your own version of this spreadsheet:
There may be other details about who you support which you'd like to capture (e.g. gender, ethnicity) or about the activities you run, do get in touch with Dr Naomi Maynard ([email protected]) if you need support to adapt this form to include this.
We will be adding further tools to support with storytelling later in 2022.