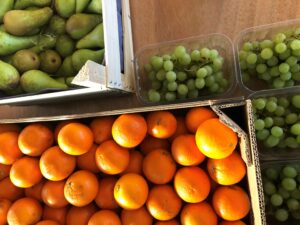 Feeding Liverpool were delighted to host our first Affordable Food Initiatives Forum this month bringing together Community Food Partners including New Beginnings, Improving Lives; Community Shop; St Andrews Community Network; Imagine If Food Clubs; Christ Church Pantry, Norris Green; Nugent Pantry; South Liverpool Foodbank; St George's Pantry, Everton and Trees for Cities.
Attendees shared ideas and challenges of running pantries, food clubs, community shops and markets, and spent time talking about what being a Good Food City could look like as part of the first stages of Liverpool's Good Food Plan.
The group offered these eight key pieces of advice for anyone looking to start similar community food initiatives:
Start with a good group of volunteers from the local community
Be clear why you want to set up an initiative and what it is you are looking to establish – who will it be for and what need is looking to be met?
Spend time getting to know and understand the local area, is a new affordable food initiative needed in the community? Has the idea come from the community?
Get to know organisations already working in your area, listen and learn from them
Partner with others where you can, this will create more sustainable initiatives
Contact organisations already involved in this area of work for advice and support (Feeding Liverpool can connect you!)
Develop strong partnerships with retail; listen to them to understand how you can be a good partner to them, it's a two-way relationship
Establishing a stable food supply takes time, have a small amount of reserves at the start to supplement your food supply whilst you work out your costing and supply needs
The group decided they were keen to meet again in the future, with Feeding Liverpool continuing to facilitate this gathering.