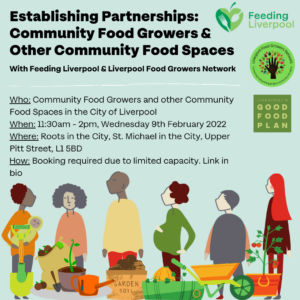 With Feeding Liverpool and Liverpool Food Growers Network
This lunchtime session will explore how to establish and develop partnerships between community food growing spaces and other community food spaces such as food pantries, food hubs, community shops, and community kitchens.
It is an opportunity for representatives from both groups to network, share experiences, ask questions, and discuss future projects.
Refreshments and a light plant-based lunch will be provided. Speakers to be confirmed.
Who: Community Food Growers and other Community Food Spaces in the City of Liverpool
When: 11:30am – 2pm, Wednesday 9th February 2022
Where: Roots in the City, St. Michael in the City, Upper Pitt Street, L1 5BD
How: Booking required due to limited capacity.
For more information, please contact:
Jennifer Graham, Feeding Liverpool's Good Food Programme Network Coordinator: [email protected]
Clara Steiner, Liverpool Food Growers Network Coordinator: [email protected]
To register click here.