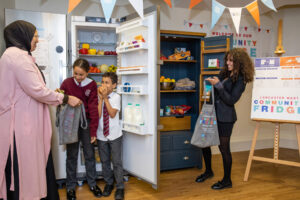 Co-op is working in partnership with Hubbub to offer funding to local groups for 100 Community Fridges across the UK.
A Community Fridge is a social space that brings people together to eat, connect, learn new skills, and reduce food waste.
Hubbub coordinates the world's largest Community Fridge Network now running across the UK. With support from the Co-op who have funded for a further 250 new fridges, Hubbub have been able to double the size of their network, which will save a total of 34 million meals from going to waste annually.
The Community Fridge Network offers free guidance to groups wanting to set up their own community fridge, and provides comprehensive support, design assets, peer support, health and safety templates as well as discounted fridges and freezers.
A Community Fridge can be accessed by anyone and everyone who wants to share food, volunteer, or get involved with other food, environment or related activities the group have to offer.
You can apply for funding for a Community Fridge here.
Successful groups will receive:
£4,000 funding
support to set up a fridge
membership to Hubbub's Community Fridge Network
Find out more information about Hubbub's network of Community Fridges and to find a fridge near you here.
And follow the campaign on social media with #CommunityFridge.