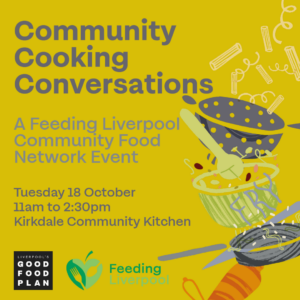 We are inviting organisations in Liverpool to join us for our latest Community Food Network Gathering; Community Cooking Conversations.
This session will bring together Good Food organisations to listen, learn, share and make connections with others, focusing on the theme of Community Cooking.
By community cooking we mean any project where groups meet to cook meals together or projects involving cooking meals for the community, this could look like cooking classes, community meals, a community kitchen, lunch clubs, or slow cooker projects for example.
The session will include a plant-based lunch, networking opportunities, a live cooking demonstration, and practical advice about how to setup and sustain your community cooking project from professionals in the field.
Speakers
Chef Leigh Menzie from Kirkdale Community Kitchen
Prof Bryce Evans from Liverpool Hope University talking about The Solidarity Model of Community Kitchens
Dr Hayley Tait from Vinny's Kitchen, Community Plant-based Cook School
Keenan Humble from Alchemic Kitchen, a Feedback project
Who: Organisations in Liverpool wishing to setup a community cooking project, learn best practice for how to sustain their project, are running successful projects, or anyone interested in this topic.
When: 11:00am – 2:30pm, Tuesday 18th October 2022
Where:  Kirkdale Community Kitchen, 211 Walton Road, Liverpool, L4 4AJ
For more information, please email Jennifer Graham, Feeding Liverpool's Good Food Programme Network Coordinator on [email protected]