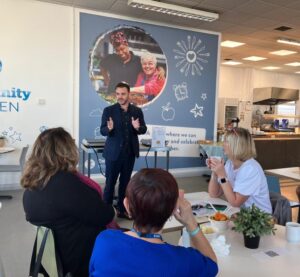 In October 2022 we held our community food network event Community Cooking Conversations at Kirkdale Community Kitchen. This session brought together Good Food organisations to listen, learn, share and make connections with others, focusing on the theme of Community Cooking.
By community cooking this can mean any project where groups meet to cook meals together or projects involving cooking meals for the community, this could look like cooking classes, community meals, a community kitchen, lunch clubs, or slow cooker projects for example.
The session included a plant-based lunch, networking opportunities, a live cooking demonstration, and practical advice about how to setup and sustain your community cooking project.
Lunch was a delicious vegan sweet potato satay curry cooked and demonstrated by chef Leigh Menzie from Kirkdale Community Kitchen.
Recordings
We were joined by three speakers, Dr Bryce Evans, Professsor of Modern History at Liverpool Hope University, Dr Hayley Tait, GP, Author, and Cook, and Keenan Humble from Alchemic Kitchen.
Bryce talked about the solidarity model and history of community kitchens.
Hayley told us about her project Vinny's Kitchen, a plant-based cookery school in Wavertree.
Keenan shared about how to sustain your community cooking projects.
Big thank you to all the speakers and Chef Leigh for his cooking demo and delicious food!
Links to resources

During the event, several resources were mentioned. Here are links we think you may find useful if you are in the process of setting up a community cooking project:
Government website allergen course – Food Standards Agency food allergy online training
LCVS – to set up your charity – Start Up Advice and Support | (lcvs.org.uk)
Broken Plate Report (mentioned by Hayley) – The Broken Plate 2022 | Food Foundation
Made in Hackney (support for setting up community kitchens- mentioned by Hayley) – Home | Made In Hackney
There will be more community food network events coming soon.