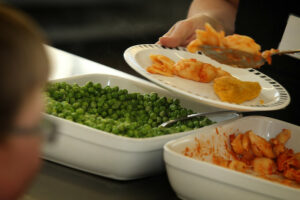 By Dr Naomi Maynard, Good Food Programme Director
As a parent, if we have free school meals you would know your child has had access to a hot meal at lunch…they are nutritious meals and they're being well fed, so if money is tight, its ok if I give them beans for tea because I know they've had a meal at school.
Kallie, Feeding Liverpool activist and mum from Clubmoor
Earlier in the year Kallie – who is championing free school meals for all – spoke to me about the difference free school meals would make to her household. Kallie is a mum and grandmother, she volunteers at her local pantry. She and her husband both work part-time but like so many working families money is tight.
Yesterday we heard that primary-school children in London will receive free school meals from September 2023 for at least the next year, as an emergency measure unveiled by Sadiq Khan the Mayor of London.  Funded by additional business rates income, it is estimated the move will help around 270,000 primary school pupils and save families around £440 per child.
Thousands of families who are living in poverty across London will be rejoicing, knowing at least one pressure point on their household's budget will be eased next year. There will also be benefits for the future, Free School Meals have been shown to boost educational attainment and attendance and in the long term increase a child's lifetime earnings. We also know they have long term health benefits, improving the quality of children's diets and combatting childhood obesity.
So a moment of celebration? There will be free school meals for primary school children in Scotland, Wales and London. This is great news and certainly a win for the Food Foundation, School Food Matter's and BiteBack 2030's Feed the Future campaign. But thousands of children living in poverty in Liverpool (and elsewhere in England) are still missing out. Our children's health should not be a postcode lottery.
And so further action is needed, and fast. As Anna Taylor from the Food Foundation has said:
Government now has the opportunity to deliver on its levelling up promises by addressing the inequalities inherent in our Free School Meal system.  We need funding in the next budget that levels the playing field, so at the very least all children living in poverty across England are guaranteed a daily nutritious meal at school – not just as an emergency one-year measure but as an integral long-term provision in our state school system.
To found out more about the Feed the Future campaign visit: https://foodfoundation.org.uk/news/feed-future-campaign