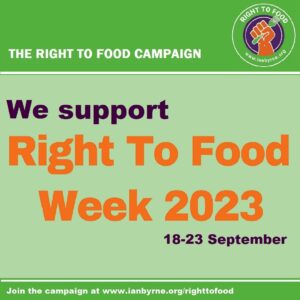 From the 18th – 23rd September Feeding Liverpool will be supporting the Right to Food Campaign's week of action to raise our demands for legislation to address hunger and foodbank use across the country.
In 2021 Liverpool became the first "Right to Food City" in the UK when the city council unanimously called for the Right to Food to be incorporated into the National Food Strategy. However, whilst other cities have taken up this pledge, there remains a lack of national leadership from policy makers to address the food insecurity faced by millions of adults and children in the UK. Right to Food Week 2023 aims to put the question of food back on the political agenda and call for decisive action to end hunger.
How to get involved
The campaign is detailing a number of ways to get involved as groups or individuals during the Right to Food Week. In Liverpool, the Right to Food Campaign will be holding a Hunger March on Saturday 23rd September at 12 noon. Feeding Liverpool will be supporting community food spaces, schools and community groups to take part in the week of action and join the Hunger March on 23rd September.
Ideas to get people from your local community food space engaged in the week could be:
• Hold a banner making session to create materials for the march on the 23rd
• Use your social media to promote the march and Right to Food graphics use #RightToFood #RTFWeek2023 #HungerMarchLiverpool
• Create a video from your community food space explaining why the Right to Food is important for members
• Hold a Right to Food stall at your community food space to talk to others
• Contact your local schools, community groups and workplaces to make connections and get them involved
If you are interested in getting involved in the week of action, mobilising for the Liverpool Hunger March, or want to find out more, email [email protected]
Download The Right to Food Campaign leaflet here.
More on the Right to Food Campaign
Feeding Liverpool support the Right to Food Campaign – calling on the government to enact legislation to protect people's right to access good food.
The Right to Food Campaign demands:
Universal free school meals to ensure no child goes hungry,
Reviews of minimum wage and benefits to ensure everybody will be able to afford food
New independent regulators to ensure the government is protecting the right to food
Food policy which secures sustainable and fair long-term solutions to our food problems
Support for Community Meals provision to offer alternatives for families and elderly