Case Study:
The Power of Football in Ensuring Good Food for All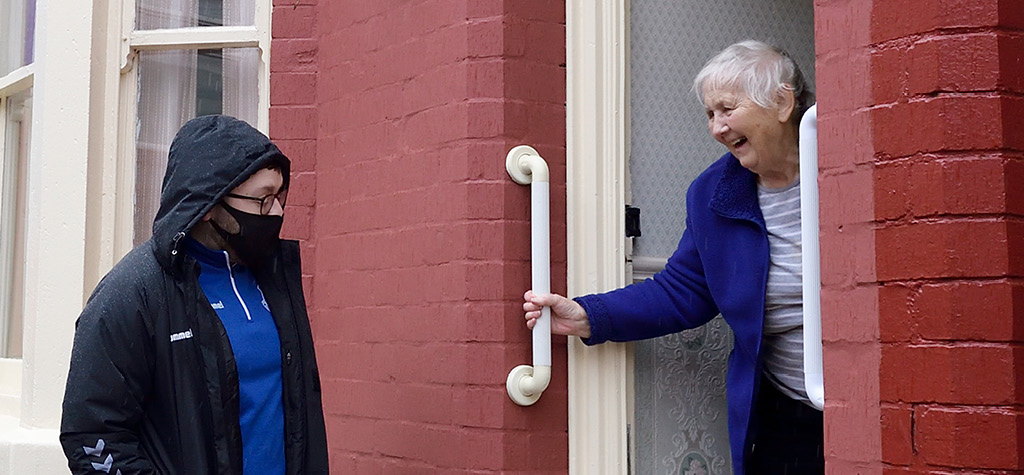 Football clubs and football fans in Liverpool have a long standing relationship with food banks and quickly responded to a sharp increase in food insecurity across the city during the Covid-19 pandemic with an increase in support. 
"I never ever thought that the need for this sort of thing [food insecurity] in Liverpool is so great. It's frightening how many families are just one boiler, one oven breaking or one flood away from not eating anything. The breadline is so close it's unbelievable.There was one lady that reached out to us while she was sitting in the kitchen with towels around her and the oven on to keep warm." – Adam​ Howard, Programme Manager, Everton in the Community.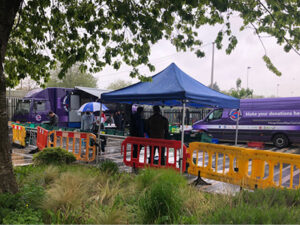 Football clubs and their official charities have played a remarkable role over the past 18 months to ensure that communities have access to 'Good Food.' They have done this through supporting the food banks with financial and practical support, as well as through direct engagement with their community to provide vital support and assistance. 
Liverpool FC  is passionate and committed to supporting its local communities . Food poverty is sadly not a new concept for us, we have been working alongside North Liverpool Foodbank since 2017 to support local people in food crisis. We know that the pandemic continues to have a huge effect on many people's lives, particularly financially, which will exacerbate food poverty further. This is why the support is needed now more than ever."
Forbes Duff, Red Neighbours' Senior Manager, Liverpool Football Club
The Power of Football in Numbers


Things like this transcend football. We got together on a Saturday afternoon with the idea of trying to raise £10,000 to fill the void, and to be here a little over 48 hours later with £10,000 of donations is the biggest testimony to this city.
Dave Kelly, chairman of Fans Supporting Foodbanks, March 2020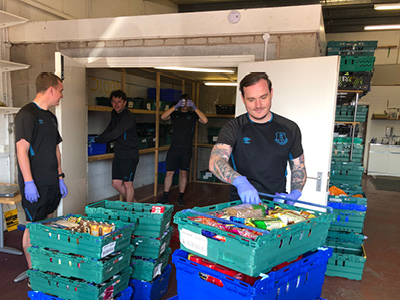 Good Food Moments
Throughout the pandemic, 'Good Food' moments have been created as a result of the clubs' work – some of these moments are described below;
Mark*, in his 90's and who looks after his wife and doesn't have time to cook – the meals make a real difference for them on a Thursday.
Sarah, in her 20s, due to be homeless in a few days, asked for support with food and was also supported to secure a tenancy in a flat with a two-year agreement.
Jackie, a 96-year-old lady living on her own, very frail and just out of hospital, received a food delivery on her birthday.
James, who lives on his own and was great friends with his neighbour who died earlier this year, loves the food as well as a chance to chat with the volunteer who delivers.
Helen, a 90-year-old lady living on her own, having a hot meal prepared for her when she usually just has butties
*All names have been changed to maintain confidentiality.
Reflections and Learning
With the increased intensity and scale of work to support people experiencing food insecurity over the last 18 months, there is much learning that has been gained that will help inform work moving forward including;
The importance of dedicated staff and capacity for example Everton's official charity Everton in the Community has six full-time staff and 20 part-time staff delivering its Blue Family initiative, providing vital aid and assistance to more than 31,000 local families in the last 18 months. LFC has staff from both its official charity, LFC Foundation and its community team Red Neighbours working on supporting food poverty. LFC's Red Neighbours team has been working to tackle food poverty in Anfield and the surrounding postcodes for four years.
The barriers to accessing food banks include feelings of shame and stigma, exceeding the number of times someone can use a food bank, food being offered is food that some people can't or don't want to eat and sometimes not sufficient in quantity.
The power of services that are more 'human' that have people's best intentions at heart, that are empathetic and understanding of people's circumstances and have a genuine interest in how their community is getting on
The strengths of working in partnership with other organisations and having strong referral networks to make sure that people have access to holistic support that is more sustainable and that can tackle the root causes of food insecurity
The advantages of a phone service with food delivery from a supermarket like reduced shame and stigma associated with going to a food bank, saving time and money and increasing accessibility to fresh fruit and vegetables.
The urgent need for more sustainable and upstream approaches to recover from the Covid-19 pandemic to ensure Good Food for All and stop people from falling into crisis in the first place.
A commitment to the Good Food for All vision
Both clubs are committed to the Good Food Plan vision of Good Food for All.
We want to be part of the system, we want to be part of the conversations. We want to be pioneers. We'd be willing to try new things and see what works and what doesn't. We want to make food insecurity an issue that people in positions of power can't ignore"
Adam​ Howard, Programme Manager, Everton in the Community.
We would like to be part of The Good Food Plan moving forward as Liverpool Football Club is committed to helping those in food crisis in our city with a special focus on the Anfield area. Having worked on helping to tackle the food poverty crisis with local organisations since 2017, I personally would like to be more involved in conversations, campaigns, training and awareness around food insecurity."
Forbes Duff, Red Neighbours' Senior Manager, Liverpool Football Club