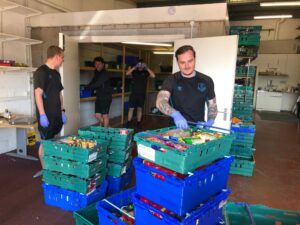 Feeding Liverpool, as part of the city's Good Food Plan, is working to produce an interactive map of emergency food provision across the city.
This map will provide information for individuals seeking emergency food support and organisations looking to signpost to support.
Liverpool's Good Food Plan is led by the Food Insecurity taskforce, a partnership of organisations formed out of Liverpool City Council's Covid Recovery Plan to Build Back Better. It will be co-produced by those with lived experiences of hunger and food insecurity, staff and volunteers on the front-line of food provision, businesses and third sector partners, as we work towards an action plan to strengthen community responses to food insecurity and ensure high-quality front-line food provision.
We would like to include on the map:
foodbanks (both large and small)
emergency meal providers, including soup kitchens, hostels, community meal hosts and emergency meal delivery services
and the many community groups, charities and housing associations who have responded with emergency food support over the last year
Feeding Liverpool is conducting a survey of these organisations asking for information that will be placed on the public-facing map. The survey will also ask about the organisation's current emergency food provision and processes, to enable Feeding Liverpool, along with the other Good Food Plan partners including Liverpool City Council and Liverpool Charity and Voluntary Services, to learn more about and be able to provide greater support for Liverpool's emergency food providers. All data provided will be stored safely by Feeding Liverpool.
The survey will be open until 14th April and can be found here: https://www.surveymonkey.co.uk/r/feedingliverpool
For questions about the emergency food provision survey or map please contact Dr Naomi Maynard at [email protected]
More information about the Good Food Plan can be found here https://www.feedingliverpool.org/goodfoodplan