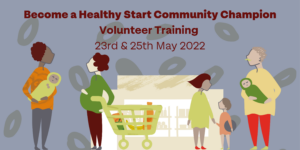 As part of the Good Food Plan's Healthy Start for Liverpool we delighted to be offering free training for volunteers and voluntary sector staff members.
This free online and in-person training is aimed at volunteers and staff members who support foodbanks, community food spaces, and community centres.
Through the session you will learn:
What is the Healthy Start Scheme
Who is eligible
How the digitalisation of the scheme will impact those you support
What being a Healthy Start Community Champion means for you
We are encouraging every foodbank and community food space to send at least one volunteer to these training events.
Online via Zoom: Monday 23rd May 11am-12pm, this training will be led by Jane Partington from The Bread and Butter Thing. Register to attend online here.
In-Person: Wednesday 25th May 2pm-3:30pm, this training will be led by Annette James from Feeding Liverpool at St Andrew's Church Clubmoor, 176 Queens Drive, Liverpool, L13 0AL. Register to attend in-person here.
Those interested will only need to attend one of these sessions.
Please do share this training opportunity with anyone within your organisation or network who you think will benefit.
For more information, please contact Dr Naomi Maynard on [email protected] or telephone 07835 947583.