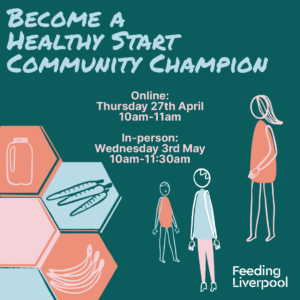 The Healthy Start Scheme is a means-tested NHS benefit for pregnant women and low-income families with children under 4. It provides access to good food: fruit, vegetables, milk and vitamins which are important to give children the best start in life.
In Liverpool only 65% of eligible pregnant women and parents/carers take up the scheme – meaning thousands of low income households are missing out on this vital support.
It is important we increase awareness of the scheme and support families to access this benefit.
Feeding Liverpool are offering free introductory training to The Healthy Start Scheme, with trainees becoming Healthy Start Community Champions, able to promote the scheme in their communities.
This training is aimed at people in Liverpool who support pregnant women and parents/carers with young children aged 0–4 years, including:
• Voluntary sector volunteers or staff members – including organisations that support families through the Holidays Activities and Food Programme
• Children centre staff, health-care related workers, and wellbeing professionals
It is suitable for people who have little or no knowledge of the Healthy Start scheme or would appreciate refresher training given the digitalisation changes in 2022.
Through the session you will learn:
• What is the Healthy Start Scheme
• Who is eligible for the scheme
• How the digitalisation of the scheme may impact those you support
• What being a Healthy Start Community Champion means for you
Healthy Start Community Champions will be provided with promotional materials to advertise the scheme within their organisation.
Online via Zoom: Thursday 27th April 10:00am to 11:00am.
This training will be led by Annette James from Feeding Liverpool.
In-Person: Wednesday 3rd May 10am to 11:30am.
This training will be led by Annette James from Feeding Liverpool at St George's Church, Heyworth Street, Everton, Liverpool L5 3QG.
Those interested will only need to attend one of these sessions.
Please do share this training opportunity with anyone within your organisation or network who you think will benefit.
For more information, please contact Gentian on [email protected]
With grateful thanks to Merseyside Play Action Council and Alder Hey Children's Hospital for funding this training.