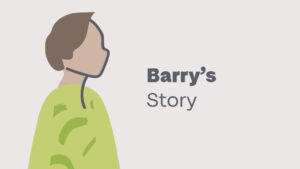 My two daughters, one's 10 and the other one's 14, I'll have them fed more than me, you know what I mean, you've got to. It's like my cat, I've got to make sure she's fed before me.
I only started learning to cook in the last couple of years. It's not that I like cooking, it's a necessity really, more than anything. But I have actually found it quite therapeutic to be honest.
I had 4 jobs a week at one point but I've been in and out of employment for about 10 years now. I'm trying to get back into work and been on courses through the foodbank. I've struggled with my mental health over the years, I was recently diagnosed with Bipolar and Adult ADHD. I've tried to kill myself a few times.
I come to a food bank, and I volunteer there too. Volunteering gives me strength, makes me feel good, I enjoy helping other people. I'll do something but I won't wait round to be thanked. As long I know it's been done to my ability, I'm happy with that.