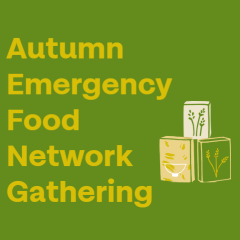 Calling all Liverpool-based emergency food providers!
We are inviting organisations in Liverpool providing emergency food support to join us for the first of our quarterly emergency food providers network gatherings. The session will bring together organisations providing emergency food support to listen, learn, share, and make connections with others working in this space.
It isn't right that anyone in our city should be left hungry or live in poverty. Liverpool's Good Food Plan identified the need for emergency food providers, people with experience of food insecurity, and organisations engaging with people at risk of food insecurity to work together to identify and work towards ways to prevent people from crisis points where they are unable to afford good food.
We also agreed that whilst we work towards long-term change, we must ensure that:
People in crisis can access appropriate support quickly and easily.
We are supporting people to access 'Good Food' at points of crisis.
Holistic support is offered alongside emergency food provision so that we are tackling the root causes of food insecurity and eradicating people's long-term reliance on emergency food provision.
At Feeding Liverpool we want to create spaces where organisations connect and share learning as we work together towards achieving the aims of Liverpool's Good Food Plan.
At this Autumn session you will hear from three providers and learn about their organisations, their success and any challenges they are facing. There will also be an opportunity to share your experiences, ask questions, and discuss future projects.
Refreshments and pastries will be provided.
Who: Organisations providing emergency food in the City of Liverpool
When: 10am – 12pm, Wednesday 12th October 2022
Where:  Paper Cup Coffee, St. Johns House 2 Queen Square, Liverpool L1 1RH
To book a place email: [email protected]